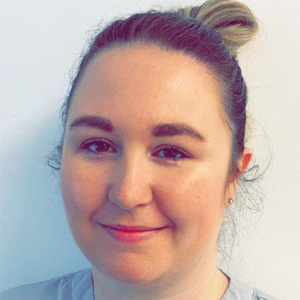 Jess
Senior Nurse, Implant Nurse And Registered Dental Nurse
Jess is a much loved and familiar face to our Patients, who returned to the practice in Feb 2020 after 3 years leave. You can be certain to receive a hearty welcome from Jess either at reception or in surgery.
Jess, I started at the practice in July 2013 as an apprentice dental nurse and qualified in December 2015. Once qualified she went on to train in Dental Administration helping in the office at the Practice along with a mixture of nursing and training nurses to become qualified registered dental professionals. She left in September 2017 to have her little boy and extended maternity leave to look after her two children.
Jess is now a senior nurse in the practice and carries out a mixture of dental nursing with Dr Hayali, reception and supporting the trainee dental nurses in the team.
Passions: Jess is extremely passionate about healthcare and the importance of the delivery of professional healthcare services. She loves dental healthcare and the team. She especially enjoys seeing patients get their smile back and says it is a rewarding experience to be a part of. We are exceptionally proud that Jess has built her own business in Beauty.
When she is not at the practise she enjoys spending time with friends and family.
back to team