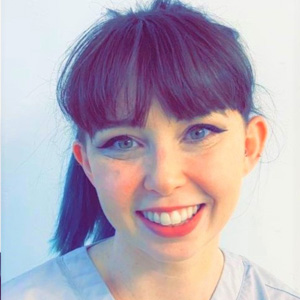 Grace
Dental Implant Nurse, Registered Dental Nurse And Our Aspiring Clincial Photographer
Joining the team in October 2020 Grace is already proving to be a firm favourite with Patients and Clinicians, joining us during the Pandemic, she has truly shown the meaning of adapting and mastering new challenges.
Grace started her dental career in 2016 and qualified in 2019. She is a very friendly approachable member of staff who is always willing to expand her knowledge and learn new skills. In such a short time, Grace is already helping shape our Patient Journey and has a talent for photography especially capturing the smiles of our Patients.
Passions: She loves all aspects of dentistry, it's something she has grown up with from a young age especially her Mum and Auntie have been dental nurses themselves, so we're pretty sure dental nursing is in her DNA!
Most weekends Grace likes to go back to St. Helens to see family with her partner and dog.
When she isn't spending time in St Helens, she is at home creating beautiful pictures with cross-stitch.
And it's very rare you will see her hair colour the same as you did last 6 months she is always changing it up!
back to team